Travel diary
My selection

Home
Buses
Pass'O REGULAR BUS ROUTE: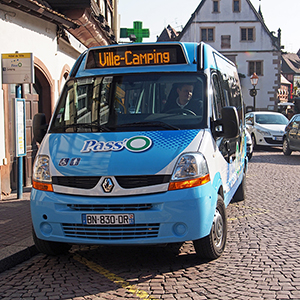 You travel by public transport: the regular Pass'O bus lines in Obernai are in correspondence with almost all TER trains in Obernai station. Line A serves the neighborhoods from East to West, Camping Maréchal Koenig through the city center and the train station. Line B serves in particular the outdoor swimming pool and the Espace Aquatique O, the business parks south and Thal via the station.
Regular lines operate Monday to Friday from 6:30 am to 8 pm and Saturdays from 7 am to 6:40 pm (except holidays).
Pass'O: the urban transport of the city of Obernai.
Pass'O+ TRANSPORT ON DEMAND:
For areas not served by regular lines use on-demand transportation. Book no later than 2 hours before your trip and before 4:30 pm for the next day. The minibus picks you up at the scheduled time at the nearest Pass'O + stop, and takes you to the city center or the train station (possible connection with the regular line). In addition, a "Door to Door" service is offered for people over 75 years and with reduced mobility, the driver will pick you up by minibus directly in front of your home.
On-demand transportation operates Monday to Friday, 8:00 am to 12:30 pm and 1:30 pm to 6:30 pm (excluding holidays) and Saturdays from 6:30 am to 12:30 pm and 1:30 pm at 3 pm (except holidays).
PRICES
Valid for Pass'O and Pass'O+ with connections within one hour:
Single journey: €0.80
All-day ticket: €2.50
10 journeys: €6,50
Door to door 1 trip: 2,00 €
Door to door 10 trips: 16,00 €
Monthly adult pass: €18
Monthly youth pass: €12
Annual adult pass: €130
Annual youth pass: €70