Travel diary
My selection

Home
Mont Sainte-Odile
Haut lieu spirituEl d'Alsace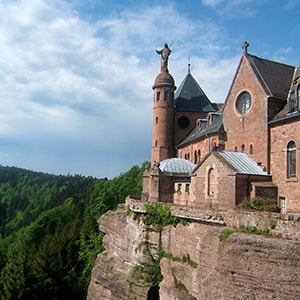 Just outside Strasbourg, on Mont Sainte-Odile, enjoy an extraordinary panoramic view of the Alsatian plain.
Come and discover an exceptional archaeological and natural environment, amid signposted hiking routes and spaces for reflection, seminar rooms and places to meet and socialise.
The convent of Mont Sainte-Odile
A centre of pilgrimage dedicated to St Odile, the patron saint of Alsace, this convent is one of the region's unmissable sites. Visit the tomb of St Odile, the Chapel of Tears and the Chapel of Angels, the terrace and its panoramic views, and the miraculous spring (15 minutes' walk).
The legend of St Odile, patron saint of Alsace:
According to legend, Odile, the daughter of Etichon (or Adalric), Duke of Alsace, was born blind. Rejected by her father, she was hidden in a monastery in Burgundy and regained her sight the day of her baptism. Her brother Hugues came to take her home, but when Etichon wanted to marry her to a young prince, she escaped into the Black Forest.
As Etichon pursued Odile, a rock face miraculously opened up in front of her, allowing her to hide. Etichon gave in to his daughter and founded the convent of Hohenburg for her on the mountain; Odile was its first abbess.
The Pagan Wall: a walk for all the family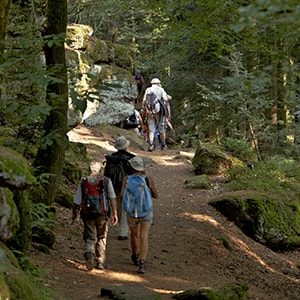 This wall, 11km long in total, surrounds the plateau of Mont Sainte-Odile.
It is a drystone wall consisting of around 300,000 large blocks of stone; it is between 1.6m and 1.8m wide, and as high as 3m in places.
Its disputed origins have fuelled fantastic theories and numerous tales and legends.