Travel diary
My selection

Home
The Alsace Wine Route
The oldest Wine Route in France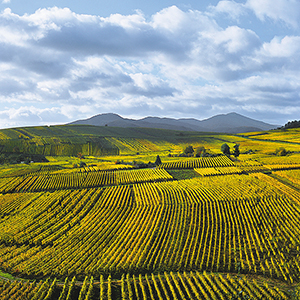 The world-famous Alsace Wine Route is a simple but stunning way to discover the Alsace region and its wine-growers.
It winds its way from north to south through the hills of the region for 170km, at the foot of the eastern slopes of the Vosges mountains.
The enchanting route takes you past undulating patterns of vines, villages whose narrow lanes bloom with flowers and quaint houses grouped around their church towers.
Wine trails through the heart of Alsace's vineyards
Visitors can venture into the heart of Alsace's vineyards and up to the top of the hills following one of the many signposted wine trails, which invite you to discover the art of wine-growing and the different grape varieties. You will be welcomed in wine-tasting cellars and traditional "winstub" taverns that exist to celebrate l'amour du vin.
Come to Alsace, journey through sixty wine-producing villages and towns and sample the wine of fifteen unique territories – they have been awarded protected geographical status, so you won't find their match anywhere outside Alsace. Just look for the label "A.O.C. Alsace grand cru"!