Travel diary
My selection

Home
Bicycle hire
Why not discover Alsace by bicycle? With almost 2,500 km of cycle routes, Alsace offers a very dense network from the north to the south of the region and from the Vosges to the Rhine. A real treat for cyclists who can discover the many tourist sites at their own pace! Alsace is a great place for bicycle touring: a cycling destination not to be missed!
Obernai, the starting point of many cycle routes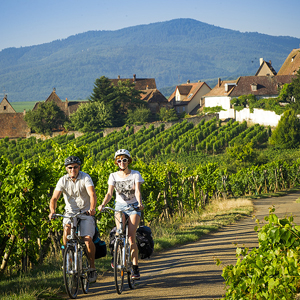 In Obernai, the second-leading city for tourism in the Bas-Rhin area, you can enjoy numerous cycle routes that have been completely repaved. Bike paths, greenways, country lanes and small roads with light traffic form a genuine network of cycle routes!
Obernai is on the Alsace Wine Road cycle route and the European cycle route EuroVelo 5 - Via Romea Francigena.
Bicycle hire in Obernai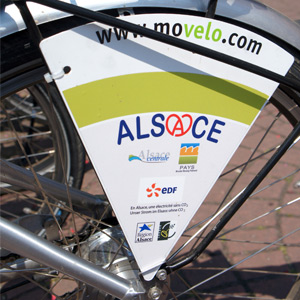 Cycling through Alsace, with electric assistance !
The Tourist Office of Obernai offers 4 hybrid e-bikes with an average range of 90 km on flat terrain and 60 km in the mountains, belonging to the movelo Alsace network.
Thanks to these efficient bicycles, pedal your way through Alsace, and be amazed by the richness of its heritage, with its quaint, charming villages, the famous Alsace Wine Route, castles towering over the plain, memorial sites, and more. From the plain of the Rhine to the valleys of the Vosges, the movelo Alsace network offers an e-bike hire service at about thirty stations.

Croq'Vélo - Terroir on two wheels : explore vineyards and valleys by bicycle
Discover the beauty of our vineyards and valleys without breaking a sweat with one of our electrically assisted bicycle tours. Stop off at one of our partner restaurants for an authentic regional meal guaranteed to tickle your taste buds.
Discover Obernai using Vél'O, the urban bike hire service
The City of Obernai, with its service provider Keolis, offers the Vél'O offer, which allows you to rent electrically assisted bicycles (VAE). This service is intended to encourage daily cycling and allows the pedelec to be tested before a purchase project. You can also rent a bicycle for your leisure activities along the Véloroute du Vignoble or to climb Mont Sainte Odile.
All types of bicycles, for the whole family and for groups
The Cycl'Hop bike shopoffers all types of bicycles: hybrid bikes, mountain bikes, and more, for families with children and groups.