Travel diary
My selection

Home
Summer, between nature and heritage
A summer full of discoveries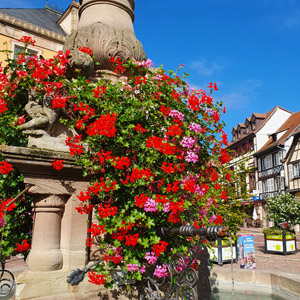 In an exceptional green setting, between half-timbered houses and geraniums, Obernai is welcoming and colourful! The town likes to live outdoors throughout the summer season.
This meeting will enchant you thanks to the perfect mix between the authentic charm of the town, the dynamism of its shopkeepers and the varied activities on offer.
EVERY DAY IS REMARKABLE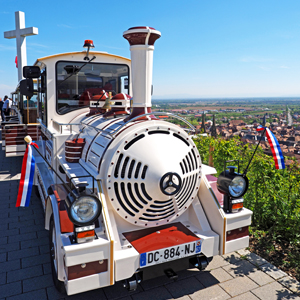 Enjoy a walk in the heart of the old town of Obernai to relax. A rich historical heritage awaits you, but also a remarkable green setting on the ramparts or in the Municipal Park. Want to get a bit of height? Take the little tourist train or the electrically-assisted bicycles to reach the Memorial, a superb viewpoint in the heart of the Schenkenberg vineyard to admire the town and its surroundings.

If you are interested in sports and wellness, there is a wide range of activities to choose from. Take advantage of the hiking trails of the Club Vosgien, nature outings with a guide, yoga sessions or the outdoor swimming pool for a perfect refreshment.
EVERY DAY IS GREEDY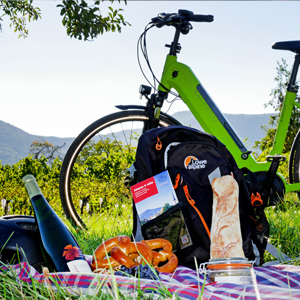 Finally, summer in Obernai is also a gourmet stopover to enjoy the culinary specialties of the region. Alsatian wines, sauerkraut, pretzels, Kougelhopf, tarte flambée, winegrower's pie... Are your mouth watering?

Head for Krautergersheim, the capital of sauerkraut! This small village full of charm a few kilometres from Obernai, has 6 - 7 farmers who produce between 70 and 100 tons of cabbage per hectare each year! Discover also Bernardswiller, wine village par excellence! Meet the passionate winegrowers during an evening of 7 Péchés Capiteux and discover a bit of their trade during a walk in the vineyard. You will continue in a friendly atmosphere with these epicureans, for an unforgettable evening of Alsace wines and local products.

And above all, don't forget to linger at one of the many restaurants in Obernai, a gastronomic town par excellence! Whether in a Winstub, the good traditional Alsatian table, or in one of our Michelin starred restaurants, simply treat yourself!