Travel diary
My selection

Home
Obernai
Obernai: Alsace at its best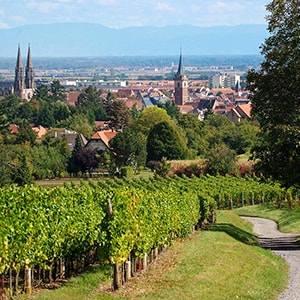 Obernai is situated 25km from Strasbourg in the heart of Alsace, on the Wine Route, at the foot of Mont Sainte-Odile, on the doorstep of the farms and cabbage fields of the Alsatian plain. It is one of the 100 Plus Beaux Détours de France, an association of smaller towns with exceptional but relatively undiscovered tourist appeal. Obernai is tranquil and unspoilt, but a tourist centre within Alsace and the second most visited town in the Bas-Rhin region.
Obernai is one of the rare Alsace towns to have retained its traditional character and charm, with its medieval defences, its fortified towers, its half-timbered houses and its narrow lanes.
As a medieval free town and then an imperial town of the Décapole alliance, as well as the legendary birthplace of St Odile, patron saint of Alsace, Obernai epitomises the rich heritage of Alsace. Whether you come for fine dining, sport or history, or just for a visit, Obernai will not disappoint.
A thriving economy
Obernai negotiated the economic turning point of the 1950s without abandoning its rich past and its role as a tourist destination, by creating conditions that encouraged new industries to set up bases here.
Obernai's thriving local economy, thanks in particular to the presence of a number of large businesses (Kronenbourg, Hager, Triumph, SUPRA, Stoeffler, ebm-papst, Gripple and CMO among others) and a great many small and medium-sized businesses and industries, makes the area one of the most important in the Bas-Rhin region, providing close to 8,700 jobs. These enviable figures reflect the dynamism of Obernai's local businesses.