Travel diary
My selection

Home
Add
48th Sauerkraut Festival-Sürkrütfecht
Krautergersheim
Description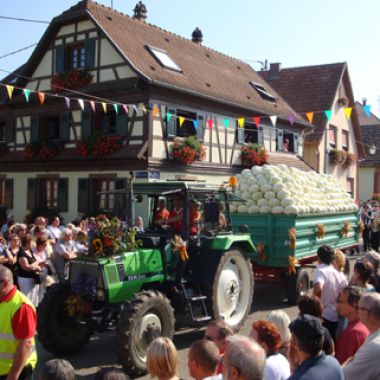 Saturday, September 23 from 7pm to 2am, big party with the CHORUS orchestra under the big top. On-site: sauerkraut or pâté en croûte meal at €30.
The following day, Sunday September 24, after a mass of thanksgiving for the fruits of the earth (9:30 am), from 11 am the village is transformed into a real market with some 70 local exhibitors. There will be craft exhibitions, cabbage-cutting demonstrations, a seasonal market, musical entertainment, and the Ades sauerkraut factory will open its doors. From 11:30 a.m., under the big top where the MARYLOU orchestra will be playing, sauerkraut or pâté en croûte (lunch and dinner - €20/adult and €10/child).
At 3pm, there's a grand procession featuring numerous folk groups, local brass bands and cabbage-themed floats! Access to the village is free and adapted for people with reduced mobility. Car parking on site.
A cabbage-cutting demonstration, with every spectator able to take home a bag of raw sauerkraut! Sauerkraut makers Wagner, Angsthelm & fils and Ades are taking part in the event.
Saturday September 30, cabbage night with the CHALLENGER orchestra. Menu €30 for sauerkraut or pâté en croûte.

To book your meal, visit https://www.capitale-de-la-choucroute.fr/billetterie-et-tarifs/
Information on 03 88 95 78 78.
Horaire(s) d'ouverture
23/09/2023

Saturday from 19:00 to

24/09/2023

Sunday from 11:00 to
More information
Audience concerned
Adults (individuals)
Families
Organised by
:
Mairie de Krautergersheim and ALAK
Horaire(s) d'ouverture
23/09/2023

Saturday from 19:00 to

24/09/2023

Sunday from 11:00 to
Venue of the event
:
Village centre
Opening hours
:
Saturday evening and Sunday
Distance (km) à la gare la plus proche
:
7
Gallery
Photos
Price lists
Prices (events, products, etc.)
:
Free entry