Travel diary
My selection

Home
Add
For children - The adventure of the Obernoé Scavenger Hunt
Obernai
12/02/2021 - 31/12/2021
Description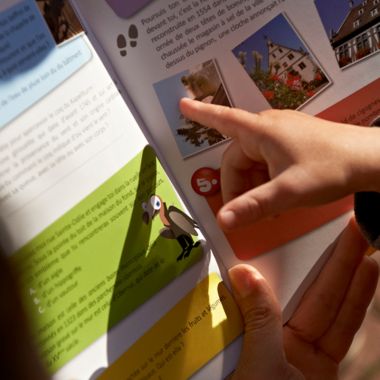 Obernoé is a little boy who dearly loves his planet Earth, and who worries about the way people mistreat it through pollution, deforestation, climate damage, and more. He fears that all these conditions will create a disaster that will threaten the lives of his friends, the animals.
Help him save them by making your way through the 19 steps of the scavenger hunt, through the city!
Game reserved for children between 8 and 11 years old. Game booklet (only in french) for sale at the Tourist Office.

Horaire(s) d'ouverture
From 12/02/2021 to 31/12/2021

Monday from 10:00 to 12:00Monday from 14:00 to 16:00

Tuesday from 10:00 to 12:00Tuesday from 14:00 to 16:00

Wednesday from 10:00 to 12:00Wednesday from 14:00 to 16:00

Thursday from 10:00 to 12:00Thursday from 14:00 to 16:00

Friday from 10:00 to 12:00Friday from 14:00 to 16:00
More information
Audience concerned
Families
Level of difficulty
Suitable for everyone
Organised by
:
Office de Tourisme
Horaire(s) d'ouverture
From 12/02/2021 to 31/12/2021

Monday from 10:00 to 12:00Monday from 14:00 to 16:00

Tuesday from 10:00 to 12:00Tuesday from 14:00 to 16:00

Wednesday from 10:00 to 12:00Wednesday from 14:00 to 16:00

Thursday from 10:00 to 12:00Thursday from 14:00 to 16:00

Friday from 10:00 to 12:00Friday from 14:00 to 16:00
Venue of the event
:
Office de Tourisme, place du Beffroi
Opening hours
:
Opening times of the Tourist Information
Price lists
Prices (events, products, etc.)
:
2,50 the Game booklet with coloured pencils